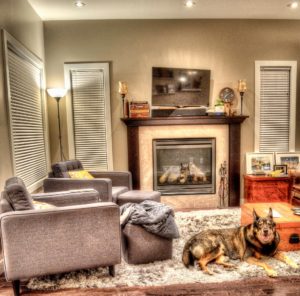 After my wife and I got married in 2009 we realized that following our passion in music had come at a cost. Instrument loans, student loans and the daily costs of living were making it very hard for us to get ahead. Working as self employed musicians also made it hard for us to get a mortgage, so we both went back to school while continuing our music careers.
Our first house was a 100 year old character home. We put our blood, sweat and tears into it to make it as beautiful as we could. Our dog, Brody, even got into the action trying to help as best as he could. (or was he trying to play?). My wife, Joanne, was having health issues and so we needed to find a new house that didn't have as many stairs. We were also hoping to find a home with a basement suite to help pay the mortgage. I found a home for us and called our Realtor to see if she could help. Although I had found the home and completed the leg work, our agent was not willing to give us a deal. This really didn't sit well with me and…. I became a Realtor.
At first, I chose a high volume discount brokerage because I knew I needed to get as much experience as I could. I also wanted to give people a deal. I sold 52 homes my first full year in real estate. Talk about experience! I also sold our first house and we moved into a new bungalow in a mature neighbourhood. Then we spent a year designing and building a basement suite. This was to help with the mortgage and give us added financial security.
I started investing extra income back into real estate. I became a landlord. Then we decided to build our own house with a suite that we rent out and are very proud of. All of this, while I was still playing in the Edmonton Symphony Orchestra.
Although I appeared to be doing well on the outside, I was actually doing too much. I needed help, so I took a break to focus on my health. I began to exercise and eat better and my wife and I enjoyed some fantastic getaways. Life became better. I also took some awesome marketing courses to help my business and clients. Lastly, I moved to a different real estate brokerage that puts a higher value on people instead of just money.
Over the past 10 years I've learned so much about the real estate industry. I've studied, invested, become a landlord and excellent Realtor. I've made good contacts, built a house and have helped hundreds of people either sell a house or find a home. I have learned that real estate is about so much more than money or investing.
It's about people.
Next Steps
If you're looking for a real estate agent, it's important that you find someone who is a good fit for you. So let's talk. Whether you're selling or buying, I'd like to learn more about you and your needs and goals. You can count on me to "tell it like it is" and give you a realistic picture of what is possible.
Contact me to get in touch.
As a real estate agent who puts clients first, I look forward to hearing from you.